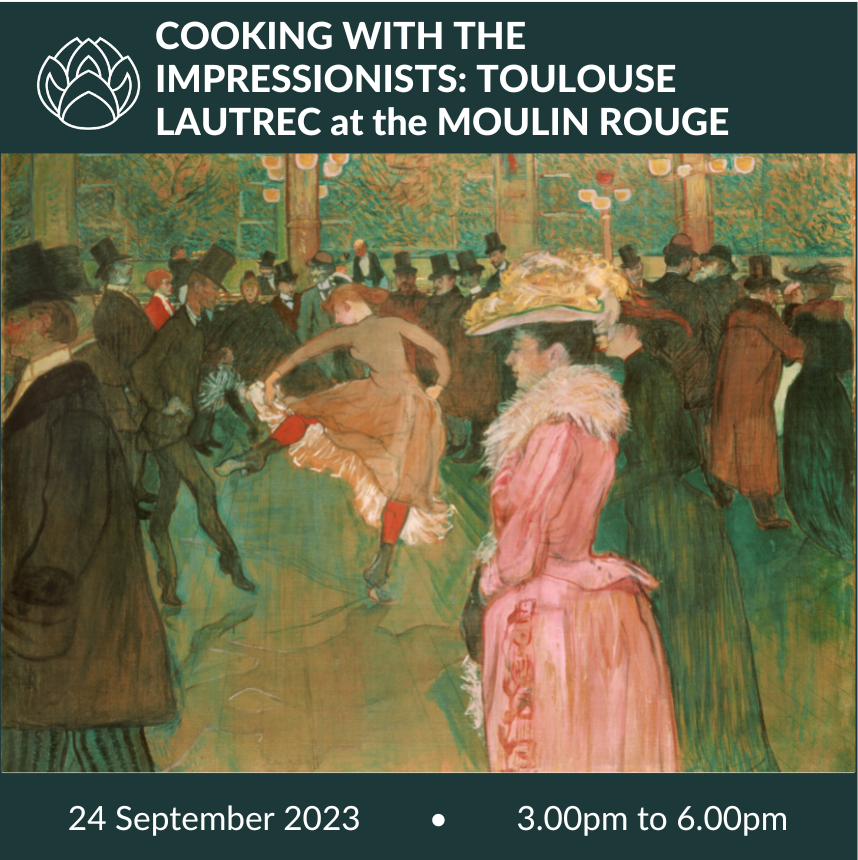 24 September 2023 | Cooking with the Impressionists: Toulouse Lautrec-SOLD OUT JOIN WAITLIST
$0.00
THIS WORKSHOP IS SOLD OUT. JOIN WAITLIST BY ADDING THE CLASS TO YOUR CART.

Date: 24 September 2023
Time: 3:00pm-6:000pm
Location: Savour Headquarters aka Wendy's home and garden, 94 Oban St., Wadestown, Wellington
Due to space limitations, this workshop is limited to 9 participants.
Join art historian and chef Dr. Wendy Joyce in her home for a special small group workshop about the famous artist and foodie, Toulouse Lautrec. We begin with a visual presentation about the art, life and food of Lautrec (about an hour) and then learn how to cook French galettes, a term that refers to both sweet and savoury tarts or crepes. We'll head out to the garden to forage for some fresh organic greens for our salad. After the cooking, we'll sit down together and enjoy dinner together with fresh bread (of course!).
One of Lautrec's favourite hang-outs was the famous Moulin Rouge and the less well-known Moulin de la Galette, a popular restaurant-cabaret in a windmill in Montmartre where he painted some of his most well-known works. Van Gogh, Pissarro and Renoir also painted the Moulin de la Galette! The Moulin specialised in serving both savoury and sweet galettes made from the flour milled on-site in the moulin. Today's dishes recreate a savoury mushroom (and optional bacon) galette and a sweet pear galette.
SKU: 20232409