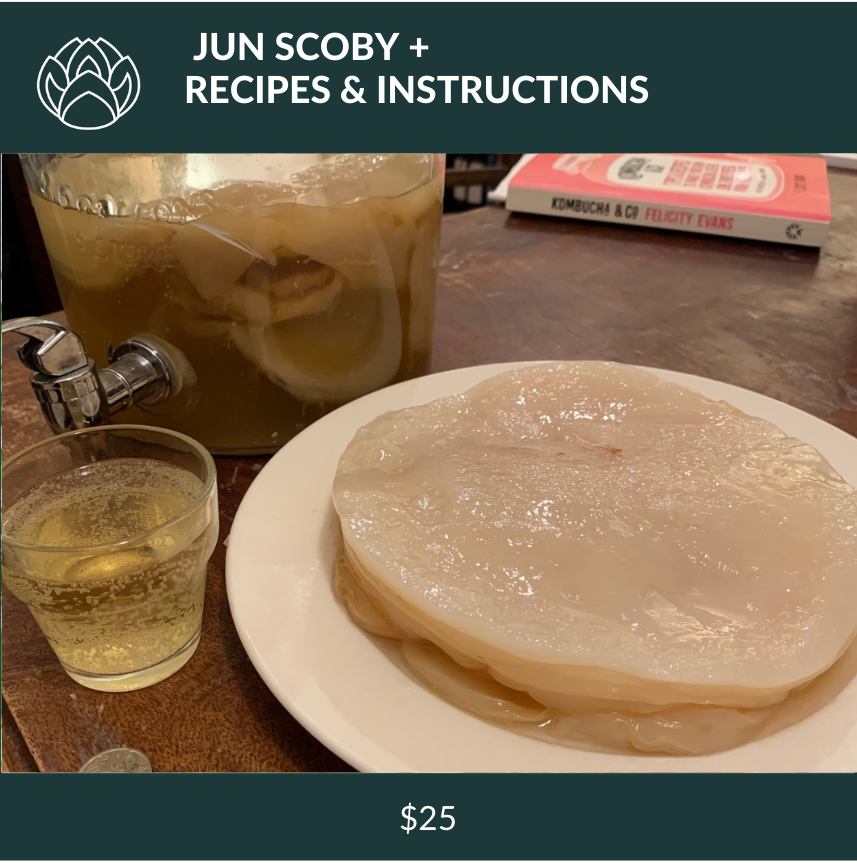 JUN SCOBY, INSTRUCTIONS & RECIPES
SCOBY
$25.00
Jun is similar to kombucha, a fermented beverage that's good for your gut and easy to brew at home. Instead of sugar, it feeds off honey and green tea only. The resulting beverage is a slightly fizzy, delicious honey-flavoured drink that is refreshing and pretty to look at! (resembles white wine in a glass)
Fermentation is one of the oldest methods of creating healthy, effervescent beverages; it's surprisingly simple and easy to get started. And eating fermented foods and drinks is great for overall health and well-being!
Purchase includes
* ONE organic Jun SCOBY + a few tablespoons jun starter liquid
* INSTRUCTIONS and TROUBLE SHOOTING TIPS
* RECIPE
You can either pick up your purchase (on arrangement with Wendy: please text 022 077 4651 or email Wendy@savour.org.nz) or we can post it to you for an additional fee.
SCOBY ORIGIN and 'breeder':
Dr. Wendy Nolan Joyce, owner of Savour Cooking School and chef, is a passionate fermenter. She started making kombucha when a friend gave her a pet SCOBY and she discovered how delicious, easy and inexpensive it is to make at home. Now she loves her fermented drinks so much that she takes her scobies on road trips when she has to go out of town! Wendy makes water kefir, kombucha and jun to serve at her cooking workshops as a non-alcoholic/low alcohol beverage option, and also makes kimchi from vegetables harvested from her Wellington-home organic vegee patch. She organised a fermentation workshop in 2018 with Jo Kempton of Happy Belly Ferments and a few kimchi and fermented drinks workshops since then. She has also co-taught popular sourdough classes with Kearin of the Wellington Bakehouse.
SKU: SCOBYjun