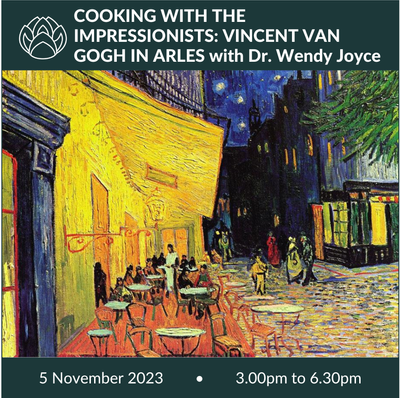 5 November 2023 | Cooking with the Impressionists: Vincent Van Gogh in Arles
IMPRESSIONISTS
$210.00
Date: 5 November 2023
Time: 3:00pm-6:30pm
Location: Wendy's home and garden, 94 Oban St., Wadestown, Wellington
Join art historian and chef Dr. Wendy Joyce in her home for a special small group workshop about Van Gogh's life in Arles in the South of France.
We begin with a visual presentation about the art, life and food of Van Gogh in Arles (about an hour) and then learn how to cook three dishes inspired by Van Gogh's time in Arles: an easy but impressive 'tarte soleil' (savoury sun tart), a Provencal potato salad and cute individual chocolate mousse pots. All the food is vegetarian and we'll venture out in the garden to pick organic greens and herbs and edible flowers to decorate our mousses!
Due to space limitations, this workshop is limited to 9 participants.
After the cooking, we'll sit down together and enjoy the meal together.
SKU: 2023511