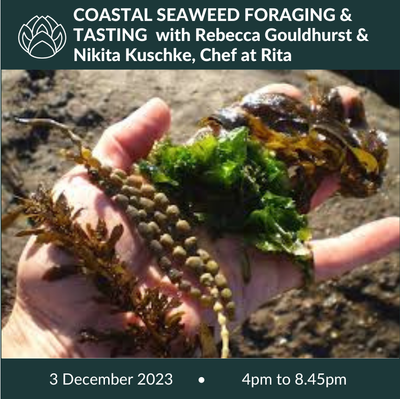 3 December 2023 | Coastal Seaweed Foraging & Tasting
$220.00
Note: This is NOT a cooking class but a foraging experience followed by a 4-course tasting.

Date: 3 December 2023
Time of foraging: 4pm-5:45pm

Location of foraging: Meeting place Wahine Park, Breaker Bay on bench adjacent to car park

Time of tasting: 6:45pm-8:45pm
Location of tasting: BGI, 3 MacDonald Crescent, Te Aro, Wellington 6011
We've allowed ample time to drive from the foraging spot to the venue and suggest parking at the Wilson Car Park on Willis st if on street parking isn't available.

Following on from the wild success of our previous foraging workshops, we're repeating this popular one focused on edible seaweeds. Join seaweed forager and author of 'The Seaweed Forager", Rebecca Gouldhurst, at Breaker Bay for a forage in and around the waters at low tide. Rebecca will begin with a short introduction and blessing, followed by a 90-minute forage in the sea (expect to be ankle deep and take care as the rocks are slippery). After the forage, gather around the blanket for an informative talk. Rebecca will provide an illustrated booklet identifying the seaweeds found and she'll bring copies of her new book for sale. You'll learn practical skills and tips that you can use over and over again--and save money instead of buying expensive dried seaweeds from a shop.
*Please wear gum boots or water shoes and bring a bag if you'd like to collect seaweeds.

Seaweeds we'll focus on:
Wakame
Sea lettuce
Karengo
Kombu
Bull Kelp
Bladder kelp
Neptune lace
After foraging, we'll return to BGI where, under the expert guidance of Chef Nikita Kuschke (Rita restaurant, formerly head chef of Hillside), enjoy a 4-course vegetarian (vegan and gluten-free) tasting with each course featuring seaweed.
By the end of the workshop you will:
1) be able to identify a variety of edible seaweeds;
2) be able to identify safe conditions for seaweed foraging;
3) understand the basic principles of foraging (including areas to avoid because of pollutants) and harvesting sustainable amounts
4) gain confidence in how to use seaweeds (either in the garden or in your meals) and come away with ideas and recipes for maximizing the flavour and nutritional benefits of seaweeds
Tasting menu will be revealed on the day! Please advise of any dietary requirements. The chef will do her best but might not be able to cater to all dietary requirements.

SPACE IN THIS WORKSHOP IS LIMITED SO GET IN QUICK!
SKU: 2023312