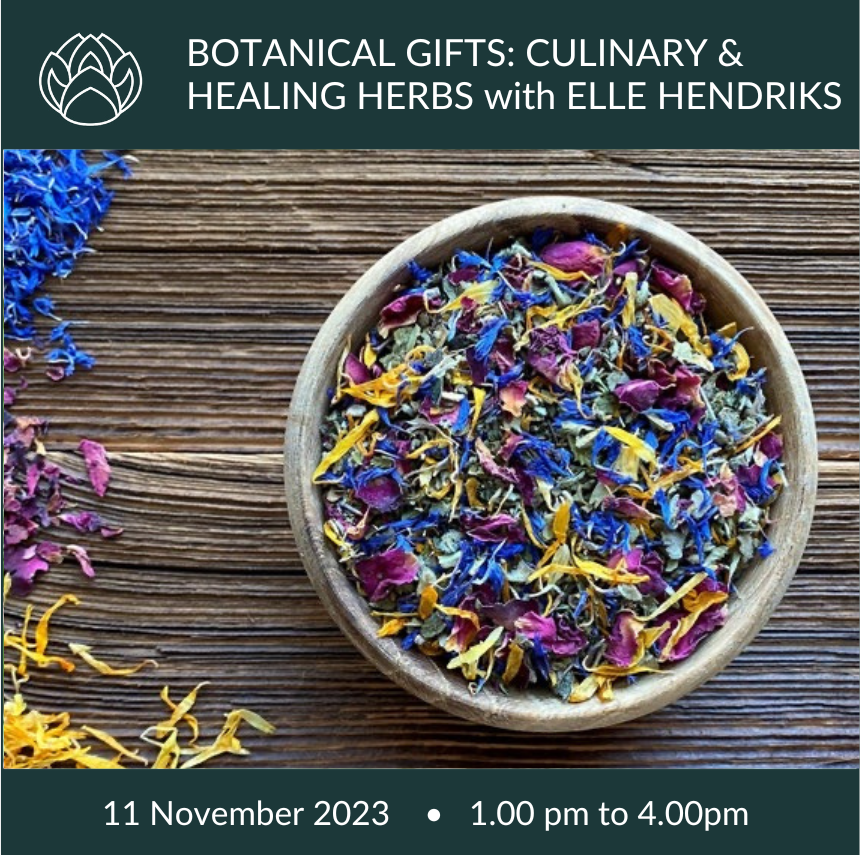 11 November 2023 | Botanical Gifts: Culinary & Healing Herbs
COOKING CLASS
$250.00
Date: 11 November 2023
Time: 1pm-4pm
Location: Savour Headquarters and Garden (aka Chef Wendy's home), 94 Oban St., Wadestown, Wellington


Spaces are very limited in this workshop. Workshop participants will take away 7 herbal gifts (we'll be making 5 in the class) in a flax woven bag (gifts valued at $150)

Enjoy a relaxing afternoon making nourishing herbal gifts with medical herbalist and naturopath Elle Hendriks of Land Natural Health and Savour founder chef and head gardener Wendy Joyce.

This workshop is for you if you're keen to:
1) learn how to blend you own herbal teas depending on you individual health challenges and flavour preferences

2) make your own gifts (these gifts are perfect for Christmas presents!)

3) get some inspiring ideas for new nourishing self-care rituals
Wild and cultivated herbs can help build immunity, act as antiviral, antibacterial and anti-inflammatory agents, just to mention a few of their actions. They also taste great! How can we get more in our diet and into our bodies? In this workshop, you'll learn about the many healing and culinary herbs we grow right here in our garden, how to use them for maximum flavour and how to incorporate them in condiments (like herb salt) or blend into bespoke teas for your friends and family.

What to expect on the day:

You'll be greeted with a calming botanical tea blended by herbalist Elle using herbs from our organic garden. If it's a fine day, we'll sit outside on the large garden deck overlooking the harbor. If it's rainy, we'll sit inside where former Prime Minister David Lange once sat (his speech writer and partner Margaret Pope was a former owner of the house).

We'll head into the garden for a short tour of our established medicinal and culinary herbs and learn about the health-giving properties of each. For those interested in growing their own herbs, Wendy will be able to answer any questions about growing conditions and tips and tricks for drying and storing your herbs.

We'll then head into the kitchen to make our own herbal products tailored to your individual preferences:
1. An herbal tea blend of dried flowers and herbs. Here's your chance to get creative and choose which you put in your blend. Some we'll have on hand: lemon balm, hops, lavender, chamomile, hibiscus, lemon verbena, rose petals..
2. An infused herbal vinegar: herbal vinegars make great gifts to package up for holiday giving and are a delicious way to incorporate herbal flavours in your cooking. We'll supply pretty bottles, and labels and some herbs to create a subtle flavoured vinegar.

3. A culinary herb salt: another great way to incorporate herbs into your diet. You can cut down on your salt intake when you add herbs or dried seaweeds, and add more minerals to your diet.

4. Herbal magnesium bath salts: you'll create fragrant, layered epsom salts in a jar with flower petals (lavendar, rose), perfumed with delicate essential oils of your choice.

5. a scented massage balm

6 & 7. Chocolate resiliency biscuits and adaptogenic chocolate truffles (due to time limitations, you'll be tasting these and we'll discuss the recipe and give you a gift pack of 5 each to take away)
We'll have a break midway through the afternoon and serve some special--absolutely delicious and chewy!-- chocolate biscuits prepared by Elle (she'll share her recipe which I promise you'll want to make again!) and chocolate truffles that incorporate herbs and adaptogens known to support resiliency and immunity.

We'll give you everything you need to package up your herbal gifts to either give away to friends and family or keep for yourself! Lovely bottles and jars, labels, ribbon/twine, creative stamps for the labels, and a cute flax tote bag to take it all home in. Plus recipes and notes so you can make these items again and again at home.

The afternoon is a lovely balance of tasting, making, and learning with Wendy and Elle.

SKU: 20231111