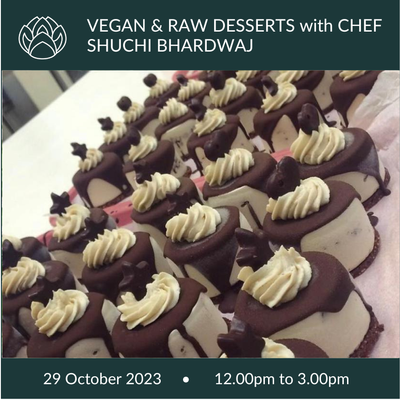 29 October 2023 | Vegan and Raw Desserts with Chef Shuchi
COOKING CLASS
$189.00
Date: 29 October 2023
Time: 12pm-3pm
Location: Kitchen Things, 1 Glover St., Ngauranga, Wellington

Join the multi-award winning and talented pastry chef Shuchi Bhardwaj, former head chef of Neo cafe and winner two years running for Wellington on a Plate's Dine Wellington, for this all-new raw and vegan dessert class.
Learn how to make healthy, non-refined sugar treats so not only your tummy but your soul is happy too! Our range of vegan, gluten-free and refined sugar-free recipes will give you a solid understanding of the basics of vegan baking along with offering easy alternatives. Learn how to make:
1. baked doughnuts- chocolate and raspberry flavoured.
2. Classic no- bake lemon meringue pie with fool-proof lemon curd and perfectly glossy aquafaba meringue.
3. cashew cream cheese and turn it into a decedent cheesecake with a fruity ripple
Shuchi is a Cordon Bleu-trained chef and has an impressive CV including head baker for over a year at Little Bird Organics in Auckland (the celebrated plant-based, sustainable and delicious vegan bakery!) where she made organic, vegan, gluten-free and sugar-free sweet treats (donuts, snickers, lemon meringue pie...), Foxgloves and Antheia's Loft.
Today's menu includes:
Vegan cheesecake. Learn how to make your own vegan cashew cream cheese and any fruit flavour swirl). Fully gluten-free.

Baked and vegan doughnuts, also gluten-free

Vegan and gluten-free lemon meringue pie.
SKU: 20232910