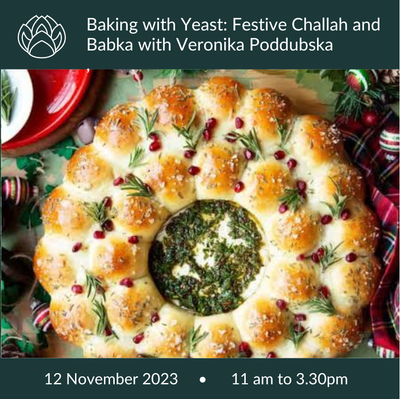 12 November 2023 | Baking with Yeast: Festive Challah and Babka with Veronika Poddubska
COOKING CLASS
$250.00
Date: 12 November 2023
Time: 11am-3:30pm
Location: Kitchen Things, 1 Glover St., Ngauranga, Wellington 6035
Join Veronika, Cordon Bleu trained award-winning baker and baking tutor for a special holiday edition baking workshop teaching you how to master the skills needed to bake bakery-quality savoury and sweet yeast breads, festive centrepieces for the holiday season.
In this 4.5-hour baker's workshop, Veronika will teach you how to make savoury (Festive challah) and sweet (Babka) centrepieces.
Learn about the entire process, which starts with mixing, kneading, rising, shaping, proofing, and glazing procedures. Veronika will share with you her knowledge as well as tips and tricks which will help you in your future baking journey.
By the end of the course, you will be able to:
Read, follow, and explore new recipes.
Master yeast dough from scratch.
Use baking knowledge to bake different yeast-based products.
Shape dough according to traditional Jewish bread types (Festive Challah and Babka).
Share your newfound skills with your friends and family.
Each participant will take home a sweet and a savoury centerpiece.
About Veronika:
Originally from Odessa, Ukraine, Veronika settled in NZ in 2015. In 2022, after years of experimenting with baking at home, she entered and won the Le Cordon Bleu Amateur Bakers' competition, then gained an Advanced Diploma in Boulangerie from the same prestigious baking school in 2023. Recently she created her own company, Bassinage Bakery and Baking School, and nowadays is working happily as a contracted baker and a baker-tutor.
Veronika is very passionate about sharing her skills and knowledge and understands that food plays an important role in connecting families and communities.
Regardless of your prior experience you will learn something new. Ask her anything- she will be able to answer almost all your questions and in variety languages (she speaks English, Russian, German, Hebrew and Ukrainian).
SKU: 20231211