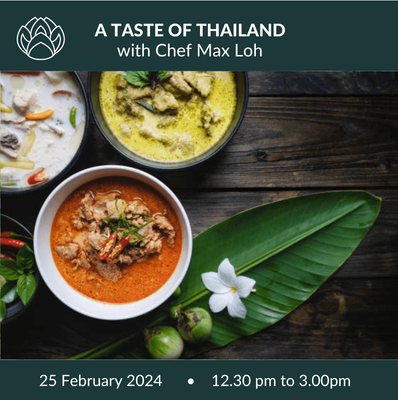 25 February 2024 | A TASTE OF THAILAND
COOKING CLASS
$199.00
Date: 25 February 2024

Time: 12:30pm-3:00pm

Location: Kitchen Things, 1 Glover Street, Ngauranga, Wellington 6035
Join Cordon Bleu-trained Chef Max Loh for a delicious workshop focused on recipes reflective of his Thai heritage. Max's background (see his bio below) is Malaysian and Thai whose cuisines he's learned to refine and modernize thanks to his training in classical French techniques.

Sample menu (TBC) : Thai green curry from scratch, tom yum soup, Thai jasmine rice with pandan, and Thai dessert.

After the cooking, pull up a stool and gather around the cooking bench to enjoy your meal with Chef Max.

Max's bio:

My name is Max Loh. I am a chef trained at Le Cordon Bleu New Zealand for French cuisine, pastry and bakery. However, I am still true to my Thai and Malaysian background and heritage. Fusing the vibrant and bright flavours of South East Asian cuisine, with the delicate and intricate cooking of French European cuisine, has allowed me to transform traditional dishes into a more modern experience.

SKU: 2024252