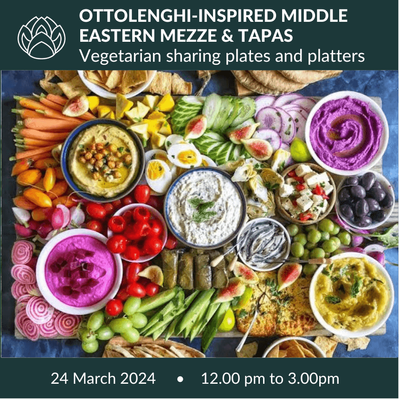 24 March 2024 | Ottolenghi-inspired Middle Eastern Vegetarian
$199.00
TWO SPOTS NOW AVAILABLE!! WAS SOLD OUT

When: 24 March 2024

Time: 12:00pm-3:00pm

Where: Kitchen Things, 1 Glover St., Ngauranga, Wellington
Join us for a fun, demo + hands-on cooking class making easy-to-follow vegetarian recipes adapted from recent popular Middle Eastern cookbooks: Ottolenghi's 'Test Kitchen Shelf Love', 'Flavour', Reem Kassis' 'The Palestinian Table', Claudia Roden's 'Med', and Adeena Sussman's 'Sababa'. Authentic and delicious Middle Eastern home cooking! Emphasis will be on recipes from Israel and Palestine that are easy to make in advance, perfect for parties or casual get-togethers with friends.

You'll be greeted with a Middle Eastern appetizer and are also welcome to purchase wine and beer and our housemade organic pomegranate kombucha by the glass. Our chef will then demo a few dishes before splitting you into small groups to cook a variety of dishes from our menu. Each group will be making a different dish so we'll have lots of different tastes to sample at the end.
When you've finished cooking we will all sit down for a relaxed feast together.
Sample Menu:
Roasted Cheese Polenta Cubes
Flavoured flat breads

Muhammara aka red capsicum dip
Labne balls
Chopped Organic garden salad
Mediterranean-style fried rice with anchovy (or caper) lemon dressing
Broccoli with mushroom 'ketchup'
Spicy roast new potatoes with lemon & herbs
Miso onions
Spinach and toasted orzo with feta
Pistachio harisa semolina cake
SKU: 202424241