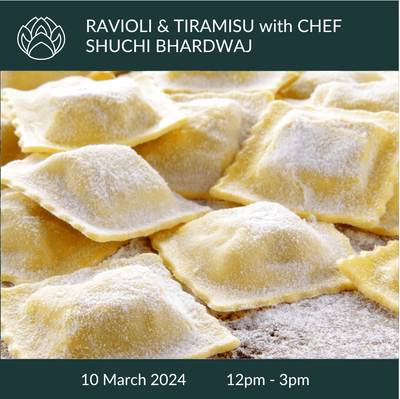 10 March 2024 | Ravioli & tiramisu with Chef Shuchi Bhardwaj
$199.00
Date: 10 March 2024
Where: Kitchen Things, 1 Glover St., Ngauranga, Wellington

Join us as we master the art of homemade filled pasta. In this 2.5-hour small group, hands-on class, you'll be making a vegetarian type of filled pasta: ravioli with Ricotta and spinach filling with two delicious sauces: a tomato and basil sauce and a sage butter sauce. We will mix our batches by hand and roll out the dough using pasta machines, then learn to make the filled shapes. For dessert, learn how to make an easy and delicious tiramisu!

After the class we will all sit down with the chef for a late lunch. Wine and beer available for purchase.


Shuchi is a multi-award winning, Cordon Bleu trained chef who has worked alongside Gordon Ramsay and Josh Emmett in London, as head baker of Little Bird Organics in Auckland, and head chef of Neo cafe (for which she won 2 Wellington on a Plate awards) and runs Le Ciel bakery in Wellington.


SKU: 2024103