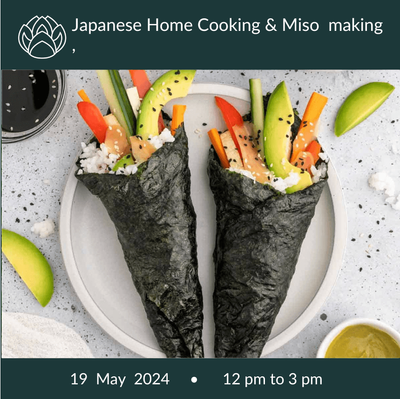 19 May 2024 | Japanese Home Cooking& Miso making with Anri Aoyama
$210.00
Date: 19 May 2024
Where: Kitchen Things, 1 Glover St., Ngauranga, Wellington
When: 12-3pm
Join us as we master the art of Japanese home cooking with Anri Aoyama. We will be making a selection of vegetarian dishes including many ways with miso and rolled sushi. We will also be making our own miso paste to take away and ferment at home.
Sample Menu:
Miso soup (using our own homemade miso paste)
Dengaku, miso-glazed eggplant
Veggie sticks with miso dip
Salad with miso dressing
sushi rice
sushi rolls
Dashimaki, Egg role

About Anri Aoyama:
About myself...
I was born and raised in Tokyo as a fourth generation family who owned the community pharmacy. There I learned about alternative remedies and discovered that basic home made fermented foods from local ingredients were the best. Nearly 10 years ago I joined a miso making workshop held by my friend, a natural/organic farmer in Japan, and it became my annual habit. It is such a simple but grateful wisdom to enhance your well-being and create nourishing dishes to share with your family and friends:-)
Looking forward to meeting you at our Japanese cooking workshop!
CHECK OUT ANRI'S FACEBOOK PAGE: Japanese Casual Home Cooking
SKU: 2024195